is a research vessel exploring how dreams intertwine with waking realities. In collaboration with artists, scientists, and practitioners, ONEIRIC.SPACE assembles resources, interviews and gatherings that examine the multiplicity of approaches to dreams and dreaming. Sign up to
our newsletter
to stay updated.
ONEIRIC.SPACE was launched in 2019 alongside
writer Effie Efthymiadi
. The logo and website were designed and developed by
Studio Push
.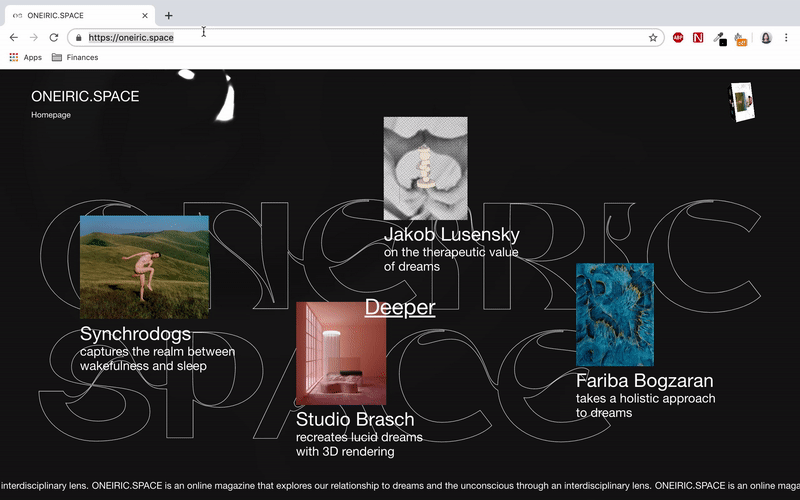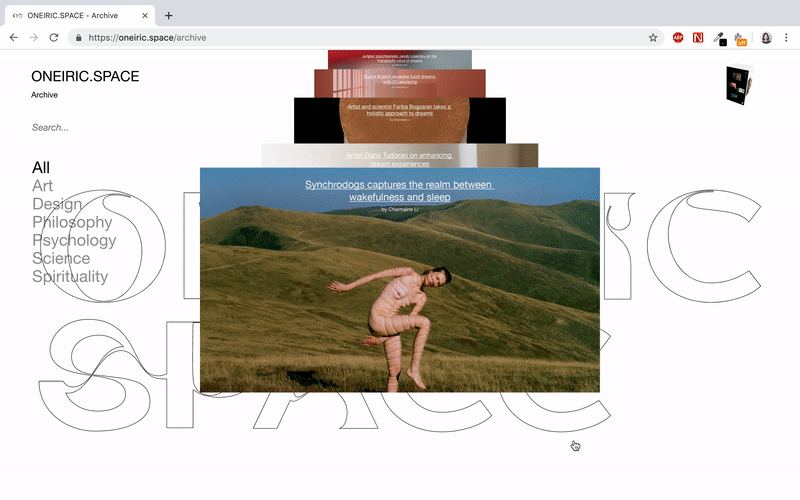 WWW.ONEIRIC.SPACE
is currently an online interview archive featuring intimate conversations about dream life with individuals from the worlds of art, culture, science and philosophy.
Each interview was designed to correspond to the content of the conversation and the dream-related material provided by the interviewee, creating a stand-alone cosmos. Interviews were published between 2019 and 2020. The website was last updated in 2020.
2022
⚫️ ONEIRIC.SPACE launched
'Circulations (@ Sunrise)'
,
a newsletter series
exploring forms of dream-sharing and how they're entangled with aspects of social, cultural, and political life. What happens when dreams extend beyond our private worlds and connect with other dreams? Can sharing slivers of dream life with others deepen our understanding of larger patterns? We examine these questions, and others, through conversations and experiments with artists, researchers, and practitioners — often at sunrise, in an attempt to meet the rhythms of the dreaming mind.
⚫️ Museum of Dreams x ONEIRIC.SPACE:
Charmaine interviewed artist Bongsu Park about the Korean tradition of buying and selling dreams
.
2021
⚫️ DADDY x ONEIRIC.SPACE co-hosted
DREAMSCAPES
, an evening of readings, screenings and discussions to celebrate DADDY's 5-year anniversary and the launch of
the Dreams Issue
, at Callie's in Berlin. We facilitated a conversation-slash-storytelling session with poet
Sailesh Naidu
and artist
Sarah Martinus
about dreams act as an avenue for imagining new futures and how we can hold intimate space to dream together.
⚫️ Artist-in-residence at
Muzeum Susch / Temporars Susch
researching and developing ONEIRIC.SPACE's gatherings strand.
⚫️ For Muzeum Susch's Magazine #2, Charmaine and Sandra Bradvic spoke to artist Itziar Okariz about using an open-ended approach to engaging with dreams and envisioning new modes of learning.
2020
⚫️ The Creative Independent x ONEIRIC.SPACE: Charmaine wrote
a guide on starting (and keeping) a dream journal
⚫️ ONEIRIC.SPACE
hosted
an
'Anxiety Release Reading'
at Haus am Lützowplatz in the frame of the 'It was all a dream' exhibition, curated by Laura Helena Wurth. In the lead up to the reading, we collected anonymous dream accounts where the prevailing feeling was 'anxiety'. To explore the various shades of anxiety in a physical space and investigate their dream and waking forms within a group, we read a selection of dream submissions and invited four guests to reflect on the topic of anxiety and anxiety dreams: artist and scientist
Mert Akbal
; historian and writer
Edna Bonhomme
; poet and printer
Nat Marcus
; and photographer
Charmaine de Heij
.
2019
⚫️ ONEIRIC.SPACE launches as a digital publication, at The Black Lodge with readings and a conversation with dancer and choreographer A
nna Nowicka
about how embodying dreams through movement can start a dialogue between our dreaming and waking realities.