ONEIRIC SPACE
is an ever-evolving research and publishing practice exploring the interplay between dreams and waking life at an individual and collective level. Through conversations, publishing experiments, and collaborations
, the project delves into the potential of dreams and dreaming to generate new patterns of thinking, being, and understanding. Currently, our research is shared through a newsletter, gatherings, publications, and an online interview archive.
꙰ MORE INFO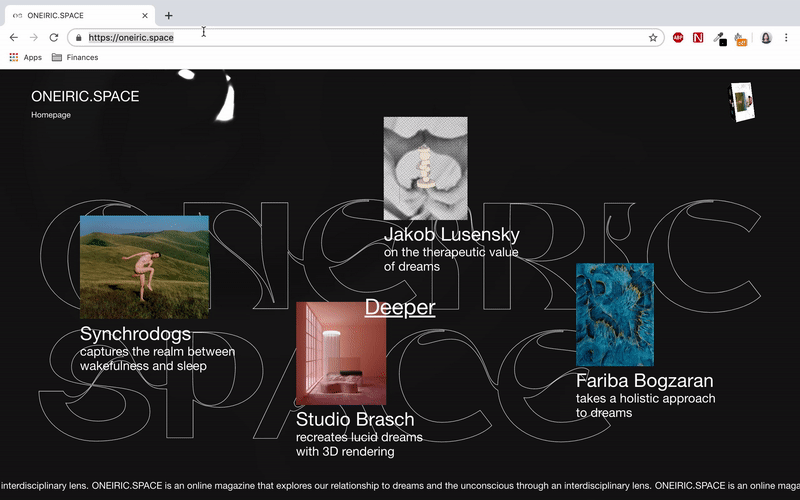 ◉ NEWSLETER SIGN-UP
/
INSTAGRAM
In 2019, ONEIRIC SPACE was launched by Charmaine and
Effie Efthymiadi
as www.oneiric.space, an online publication featuring intimate conversations about dream life with individuals from the worlds of art, design, science and psychology. To mirror the idiosyncratic nature of dreams, each interview was designed to correspond to the content of the conversation and the dream-related material provided by the interviewee. The logo, website, and interviews were designed and developed by
Studio Push
. www.oneiric.space was updated from 2019-2020, and is now an online interview archive.
As seen on
032c
,
CLOT Magazine
,
AIGA Eye on Design
,
METAL Magazine
,
It's Nice That,
Friends of Friends